Age Recognizer AI video surveillance software
Age Recognizer
"Age Recognizer" is an additional module based on Artificial Intelligence and neural networks.
This module is designed to recognize people's age in real-time using computer vision.
Such recognition can be used in shopping centers or drug stores, helping to raise sales. When visitors come, their age will be identified, and the system will launch the ad, that is most likely to be interesting for people of that age. Also, this module can be a good helper in identification of retired people, who decided to go outside during quarantine, when it's safer for their health to stay home. This module can work in conjunction with "Sound alarm", "HTTP request" or "GPIO" modules, setting necessary reactions.
"Age Recognizer" module is based on Artificial intelligence. This module finds human faces in the camera view, displays their most probable age, and if the estimated age is in the selected range, the module passes the signal down the chain to subsequent modules. The module needs additional resources to work that will be downloaded automatically.
No special equipment required – regular commonly available off-shelf computers can be used.
No special camera required – any brand or model supporting standard streaming protocols can be used. Just make sure that the image is clear.
A wide range of supported operating systems: the feature will work in 64-bit Windows, Linux or Mac OSX machines.
Not available for Linux/ARM systems. Contact us if you need it for an unsupported OS. 
WHY ESP'S AGE RECOGNIZER IS BETTER
Saves bandwidth:
All done on your machine, no need to connect to any cloud servers.
Realtime video:
Works with real-time video streams. The more fps, the better!

Flexibility and versatility:
The module can be combined with other people analyzing and statistics modules works in different conditions.
EASE OF USE
High-speed processing and analysis, fully automated work. ESP's "Age Recognizer" module has very flexible and simple settings, so you can choose the necessary age range to be detected. Besides that, as there's a possibility to specify the detection zone. 
NO SPECIAL EQUIPMENT REQUIRED
No special equipment or a powerful standalone server is required. Recognition load is on average 20% more than that of a regular camera in the program. 
No special cameras with embedded recognition detectors required. Recognition processes are conducted on ESP's side. High quality video stream is enough. Point the camera as perpendicularly as possible towards the objects.
Affordable price. Depending on the required conditions and the desired result, you can choose ESP AI Cloud Pro or ESP Standard licenses and purchase the additional module "Age Recognizer". 
HOW IT WORKS
1. Add the 'Age recognizer' module in the modules chain in ESP AI Cloud: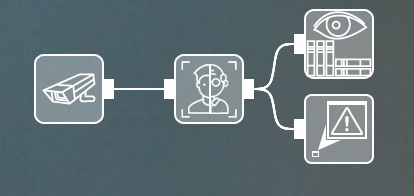 2. Adjust necessary parameters in the module's settings: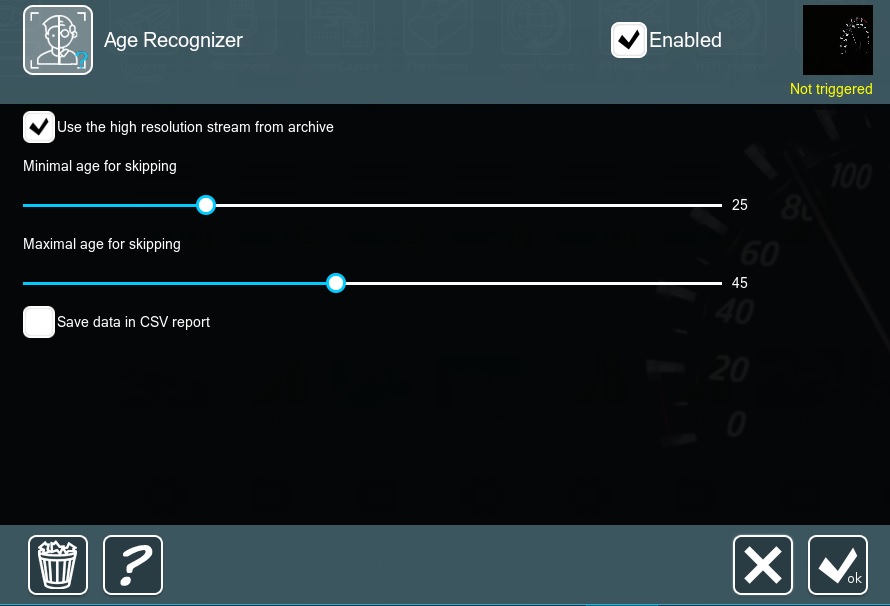 – Go to the module's settings and click 'Download additional resources', then you'll be able to configure other parameters
– Tick 'Use the high resolution stream from archive' to use the 2nd stream (usually, higher resolution one) from the 'Universal camera' module's settings
– Adjust Minimal age of skipping and Maximal age of skipping. 'Age recognizer' will detect a person's age and pass the signal to the next modules in chain. E.g. you can configure age range between 25 to 45 years, so the module will be triggered when there's a person with the recognized age of 30 (25-45 years range).
– Tick 'Save data in CSV report' to collect data in a log file.
FREE TRIAL
Try ESP's module "Age Recognizer" with a trial license. Request it in our contact form here!
| | |
| --- | --- |
| | Do you need something else? We can develop it and add it into ESP as the paid development. See details. |
Here are the ways to increase the successful recognition rate:
• You can place the camera as close as possible to the area where you need to detect a person's age in (preferably at right angle to the face)
• Place camera at right angle, face should occupy a large part of the frame
• Lighting should not be very dim or with a lot of flashes (you can use special HLC (High Light Compensation) cameras (often marked 'For LPR/ANPR'))
• Use long-focus objective for a better view